Category:: Quizzes
Take the quiz:
"Which Greek god/goddess are you?"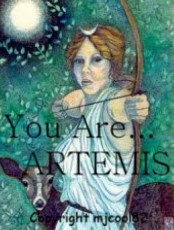 Artemis
You are Artemis! Artemis was the virgin Goddess of the Hunt. She helped women in childbirth but also brought sudden death with her arrows. Artemis and her brother Apollo were the children of Zeus and Leto. In some versions of their myth, Artemis was born first and helped her mother to deliver Apollo.
(c) 2005 A Southern Belle's Life
---


I'm a Member of the:
<< # Bitch Club ? >>

BlogRollin' other WebRing Members:




---
Harley-Davidson Motorcycles

Alabama Crimson Tide Football

Rate This Blog

BlogHop.com!
---
---
---
---
---
The Legal Stuff
2004 -2005 (C) Copyrighted Materials All Rights Reserved. Susan Reno-Gilliland This Southern Belle's Life No portion of the contents or materials specifically written by the author may be directly or indirectly reproduced, copied, modified, performed, displayed, sold, transmitted, published, rewritten for publication, redistributed in any medium, nor may any portion of the content be stored in a computer or distributed over any network, or otherwise used in any way, without the expressed prior written consent and permission of the
author.
Just because you read my blog
don't assume you really know me!

READ.THIS --
---

Skin created by Tuskudrusla.
Color-scheme and design "tweaked" by "This Southern Belle's Life" author.